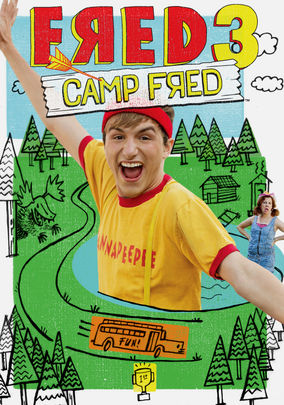 The sequel to Fred 2:Night of The Living Fred. It aired on July 28th, 2012. This follows up the adventures of Fred Figglehorn (Lucas Cruikshank), a 17-year old, high-pitched voice teen who goes to Camp Iwannapeepee.
Plot
Following the last day of school, Fred Figglehorn (Lucas Cruikshank) reveals his hopes to attend Camp Superior, a summer camp that is considered a paradise. Fred's hopes are dashed when he learns his mother is sending him to Camp Iwannapeepee, a camp Fred finds horrible. At Iwannapeepee, he meets head counselor Floyd Spunkmeyer (Tom Arnold), and a host of other campers, Magoo (Joey Bragg), Chatter (Matthew Scott Miller), Spoon (Leah Lewis), and Dig (Adrian Kali Turner), and is introduced to Oksana, a beautiful but inept nurse. At night Fred has disturbing dreams of being at home, but wakes to find he is still at camp.
Fred learns that Camp Iwannapeepee and Camp Superior have been competing in summer camp games for sixty-nine years and that Superior has always won. He also thinks he has unearthed a plot to drug the food of the Iwannapeepee campers, in order for a giant rat to eat their brains. Avoiding the gruel, Fred instead eats hallucinogenic red berries. He then learns that rather than being drugged, the Iwannapeepee gruel has been laced with super vitamins. When he learns that his arch rival Kevin (Jake Weary) is on the team from Superior, Fred becomes determined to defeat the rival camp. During the contest, Kevin tries to sabotage Fred, but his plans fail against him and Camp Iwannapeepee finally wins.